Coconut Palms (Cocos Nucifera) grow in more than 80 countries in southern and southwestern Africa, Latin America and Asia. "Cocos" is old Spanish/Portuguese language and means "grinning face", which refers to the facial expressions at the "top" of the coconut's hard shell from which it sprouts.
Coconut palms have a total production of coconut fruits of more than 60 million tons per year. The Philippines is the largest producer followed by Indonesia and India, but also Thailand, Malaysia, Sri Lanka, Ghana, Ivory Coast, Tanzania and Brazil are major producers of coconuts.
Coconut palms are available in only one species which is very difficult to grow in dry climates and can not grow without frequent irrigation. Although coconut palms are only available in one species this single species is available in a large number of variants with quite large differences in appearance, height and taste of the extracted coconut. The description on this page covers only the "big" coconut palm which dominates in Asia and Africa.
The coconut palm is a large palm tree that grows up to 30 meters (98 feet) in height with pinnate leaves that are 4-6 meters (13-20 feet) long with "ears" 60-90 cm long. Old leaves break off clean leaving the trunk smooth. On very fertile land, a coconut palm yield up to 75 fruits per year, but often gives less than 30, mainly due to poor agricultural practices. In recent years, improvements in cultivation and breeding produced coconut palm trees that give a higher yield than previously.
Botanical coconut fruit is a "drupe" not a true nut. Like other fruits the coconut fruit has three layers: exocarp (soft shell), mesocarp (hard shell) and the shelled kernel. Exocarp and mesocarp make up the "shells" of coconut. Coconuts sold in the shops of non-tropical countries, have often been exocarp (the outer, soft layer) removed. The inside of the mesocarp (hard-shell) called copra (white) and consists of a fiber called coir which have many traditional and commercial uses. The coconut has three pores (stoma), or "eyes", which are visible on the outer surface when the soft shell is removed. A full-grown coconut fruit weighs about 1.44 kg. It takes around 6000 full-grown coconuts to produce a tonne of copra (coconut).
Coconuts are coconut fruit, wherein the soft shell is removed. Coconut Its hard to be broken and removed as part of the production of coconut, coconut milk and coconut oil. The hard coconut shell has itself a number of applications ranging from decorative items and kitchenware for the production of activated carbon and as fuel either dried or charred.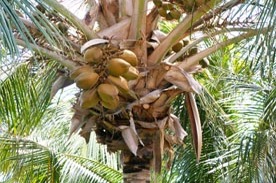 Coconut palm tree. Coconut palms grow up to 30 feet in height. Coconut fruits are high in palm crown.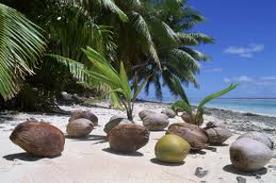 Coconut fruits. A single coconut palm produces 30-75 coconut fruits per year.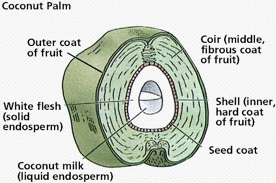 Overview of the coconut fruit structure and content.